---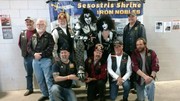 ABATE 2018
---
Iron Nobles
IRON NOBLES
Divan Rep: Dale Brambila
MAIN ACTIVITY: Parades and Fundraisers.
SPECIAL EVENTS/FUNCTIONS: Annual "Ride For The Kids" Fund Raiser. Monthly meetings. Participate in area fundraising rides. Sponsor Shrine child. Circus participation.
INVOLVEMENT OF FAMILY MEMBERS: Social and Dinner Rides - weekly. Dinner meetings and Annual Christmas Party.
MEETINGS: First Wednesday of the month, 7:00 PM. at Shrine Center and other locations upon notification.
ANNUAL DUES: $25.00 .
ADDITIONAL COSTS: Uniforms - vary in cost. All bikes approved
by the Iron Nobles
PREREQUISITES TO JOIN: Shrine member in good standing. Members do not need to have bike.
SPECIAL SKILLS OR TALENTS REQUIRED: Motorcycle riding abilities.